James City County Satellite Club Invites YOU!

The Satellite Club is pleased to welcome Mr.Tom Thorfinnson, Chief Strategic Officer at Rotary International, as our speaker on Wednesday, May 12. Mr Thorfinnson and his team work with Rotary staff and members to develop and implement organization-wide strategy and set and measure goals. His topic is the vision of Rotary International going forward, the effects that COVID has had on our organization and where we are in membership. Don't miss this great presentation.
You are invited to a Zoom meeting.
When: May 12, 2021 06:30 PM Eastern Time (US and Canada)
Register in advance for this meeting:
https://us02web.zoom.us/
meeting/register/tZErceqorz4tHddN8TZoePwV81H7kGlusBJ1
After registering, you will receive a confirmation email containing information about joining the meeting.
---
Cape Henry Club:
submitted by Lori Absher
---
Williamsburg Club:
submitted by Will Hummel (President Williamsburg Club)
Our club has diverted our weekly meeting budget to support the donation of food for groups in need. These photos are from a donation delivery to the Williamsburg House of Mercy.
---
Goochland Club: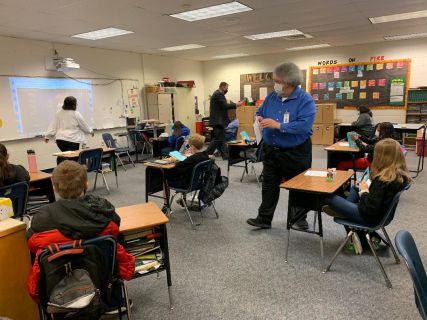 Banner day at Goochland Rotary! Yesterday was an awesome day, I was fortunate to sponsor two new club members, Dr. Adrian Avram, and my beautiful wife, Laura Salon. Welcome to Goochland Rotary, where we do not run away from the fire, we run to the fire!
For more information about membership at Rotary Clubs in Central Virginia, please contact me.
Rich Salon
District Membership Chair
Rotary District 7600
(804) 385-1309
One of Goochland Rotary's area of focus is supporting education by encouraging children to read. For the third year, Goochland Rotary was able to provide every 4
th
grade student in the Goochland County Public Schools their own hard-back copy of the
Wonder
by R. J. Palacio.
If you have not seen the movie or read the book, the story is about a boy named Auggie who has been home schooled because of a facial deformity, and his parents wanted to protect him. As he gets older, he and his parents agree it is time for him to go to school with other kids and he starts his first year in Beecher Prep School in the 5
th
grade. This is a funny and incredibly moving novel about Auggie's adjustment to going to school for the first time, making friends and the students learning to accept him.
In part of the story, one of the teacher's explains to the kids about having a precept to guide them in their life and in making their decisions. Rotary also has a precept to guide us Rotarians. It is known as the 4-Way Test.
Of the things we think, say, or do -
Is it the Truth?
Is it Fair to all concerned?
Will it build Goodwill and Better Friendships?
Will it be Beneficial to all concerned?
A label is included in each book with this test.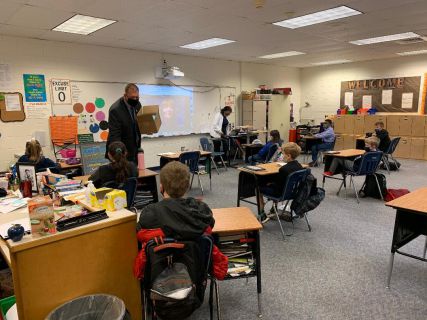 This year's distribution process was modified to follow Goochland County Public Schools' COVID-19 Health Plan, which did not allow us to distribute the books to the students in person. Instead, this year, Rotarian Robin Hillman prepared a video with our Rotary Club message that was played for the students and then Rotarian Dr. Raley handed out the books to each student. We missed seeing the children's excitement in person when they received the book. But Dr. Raley collected great pictures of the students receiving the books. Those pictures have been included here for your enjoyment.
---
New Kent Club:
The Rotary Club of New Kent hosted a second interactive virtual cooking class aimed to raise funds to support scholarships for local students. Given COVID, this is the only fundraiser series we have this Rotary year for the scholarships. Last month we held the first
Cooking with Lori,
Lori DeSanctis is a member of our club who lives in Italy, is a chef and owner of Molise Cuisine. We raised almost $1,000 which will pay for one scholarship, so we are at it again in hope to raise additional funds. We hope you will consider joining us this Sunday at 1:00pm for Cooking with Lori.
Next we will have wine Sommelier, Scott Barden, a Brit who lives in Molise, Italy, share his tips on wine pairing. The menu for this event is titled Italian Basics, based on requests from the last show. Lori will show us how to make Marinara sauce in the cuccina with Scott and I will demonstrate the art of making fresh Cavatelli, homemade pasta, from my kitchen in Virginia. The ingredients are minimal and easy to follow. I hope you will consider supporting this event and take part in making some Italian Basics. We encourage you to cook along with us or have a glass of wine and interact with us as we cook.
to register go to:
rotaryclubofnewkent.com/cookingwithlori
---
Warwick Club:
submitted by Jennifer Daknis
We are PEOLE OF ACTION! Rotarians from the Warwick at City Center Rotary Club celebrated Earth Day 2021 by spreading mulch and cleaning up the Dinosaur Discovery Trail at The Virginial Living Museum, the museum we help found in 1966. Opened in 2016, the walking exhibit showcases 16 of the majestic animals that ruled the earth more than 150 million years ago including a T-Rex and a Brachiosaurus.
Several Rotarians spent the afternoon at the Northern Neck YMCA Camp Kekoka helping to clean and tidy up the facilities for this seasons' campers. Founded in 1946, the 97 acre camp is located in Kilmarnock and has something for all ages!
President Sharon Martin was recognized as a Paul Harris Fellow+2 at a recent club meeting. Past President Jennifer Daknis presented Sharon her pin and Foundation Chair Carol Chamberlain, via zoom, made a brief presentation to the club recognizing Sharon's contributions. The Paul Harris Fellow was established in 1957 to encourage and show appreciation for substantial contributions to the Rotary Foundation.
---
James City County Satellite:
Submitted by Neva Lynde
The Satellite Club of James City County volunteered at the Run the Fairway event at Kingsmill River Golf Course. There was a fun run, 5K and 10K run, all on the fairway. and an outdoor living festival. The event was sponsored by the Virginia Turfgrass Foundation, to increase awareness of the benefits of natural, living grass on the environment and supported Rotary's seventh focus area, the Environment.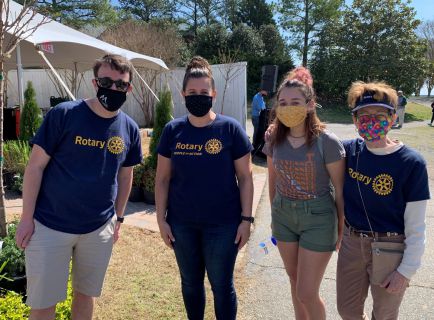 Photo Left:
Grayson Moore, Courtney Martinez, Bella Martinez, and Neva Lynde.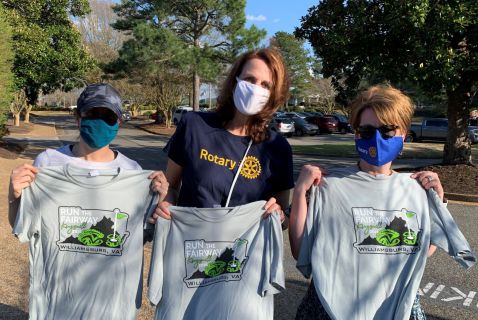 Photo Right
: Cathy Dahl, Elisabeth Reiss, and Jane Chambers.
Photo right
: Daughters of Satellite Rotarians and Futur
e Rotarians: Rebecca, Elle, and Morgan.
Neva says, "I particularly like the three little girls whose Moms are all in our Satellite Club. This was our first event that all three were together. They had a blast handing out medals and bottled water to all the runners as they crossed the finish line. And they brought big smiles to the runners! Such fun."
And...
Led by PDG Gary Chenault, James City County (JCC) Rotarians cleaned JCC Veterans' Park on the 43rd Annual County-wide Spring Cleanup Day. The JCC Club adopted Veteran's Park a year ago and displays 100 U.S. flags there at least twice a year. Pictured near the Viet Nam Memorial in Veterans' Park are Neva Lynde, Gary Chenault, Ron Lynde, and Roger Saunders. Score one more for the environment!
---
Newport News Club:
It's always a great day to be a Rotarian and today was extra special because it was our first meeting in-person in 4 months!!! It was wonderful to see everyone!
---
Huguenot Trail Club: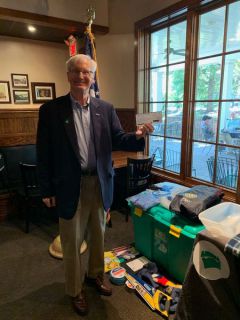 We would like to thank Wayne Chiles with ShelterBox USA for being our guest speaker this week. Wayne has been with ShelterBox for over 15 years and he was excited to spread the word about all the lives touched by this great organization. The Rotary Club of Huguenot Trail donated $1,000 to ShelterBox to support their efforts with future disaster relief.
---
Smithfield Club:
Rotarians hard at work!! Shown here - the Machine (aka Neil Parker) part of our work crew of combined forces from the Tuesday Happy Hour & Thursday Clubs who filled FOURTEEN of those orange bad boys on Rt between the Rt 258 intersection & Cypress Creek Overpass.
---
Alumni Association:
submitted by John Miller,
Rotary District 7600 Alumni Association President
A Message to the Rotary Alumni Team,
Happy Spring! With summer fast approaching, it is time for the Rotary District 7600 Alumni Association Spring/Summer service project.
As many of you are aware, COVID-19 continues to stress homeless shelters across our Rotary District. With social distancing requirements, many shelters are operating at a fraction of their total capacity. This reality has left many individuals out on the streets and in the elements. In Norfolk, the Salvation Army Homeless Shelter has become the sight of a tent city, which was chronicled just today in the Virginia Pilot.
https://www.pilotonline.com/news/vp-nw-norfolk-homeless-growing-center-20210418-lfzudz7zkbdnzebbghfcmbgcru-story.html
To help individuals who can't get shelter,
we plan to purchase 200 ponchos made from recycled plastics for our Spring service project
. These ponchos will be delivered to the Salvation Army in Norfolk and Richmond. In the event that shelter is unavailable, these ponchos will help keep individuals and their valuables dry.
As we shopped for resilient, environmentally friendly ponchos, we realized our budget allocation would not get us across the line in a meaningful way. As such, we are asking each of you to make a small contribution to get our service project over the top.
If each of our Alumni is able to donate just
$5
, we will be able to purchase the 200 ponchos and support our neighbors in need. Donations are easy.
1. Venmo: @RotaryAlumniServiceProject
2. Mail a check payable to Rotary District 7600 w/Rotary Alumni Service Project in the memo to Mr. John Miller, 388 Boush Street Unit 105, Norfolk VA 23510
The deadline for contributions is 11 May, the date of our Spring Social.
I hope that you are able to help us reach our goal.
Yours in Rotary,
John Miller
---
Rotaract District 7600